INNISFREE EMPTY BOTTLE-RECYCLING CAMPAIGN
Recycle your used empty bottles at innisfree store and be rewarded!

If all of us are in this together,
we can save a pine tree.
For the past 10 years, we have collected over 800,000 bottles
through Empty Bottle Recycling Campaign and planted more than
860 pine trees for a better environment.
Empty Bottle Recycling Campaign since 2003
Please return the innisfree empty bottles.
Total number of empty bottles received
by innisfree (updated in 2018)*
12,524,850 empty bottles recycled
3,626,659

2015

4,320,705

2016

4,577,486

2017
*Empty Bottles Recycled from 2015 to 2017 respectively.
Recycling
Process
Protect the nature in
your daily life!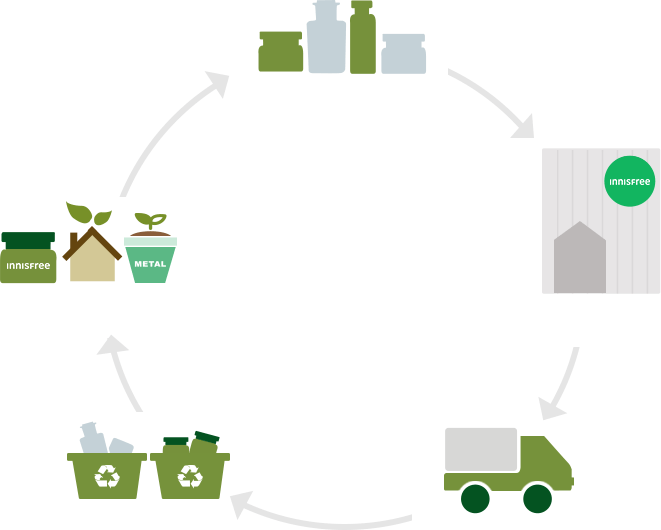 HOW TO PARTICIPATE IN THE EMPTY BOTTLE-RECYCLING CAMPAIGN
STEP 01 Bring empty innisfree bottles to our stores
STEP 02 Be rewarded by participating in Empty Bottle Recycling Campaign
- Applicable to innisfree products only (essence, hair and body products made of glass or plastic)
- Excluding makeup and canned type products
- Maximum of 3 empty bottles per member per month
GREEN LIFE CAMPAIGN Let's go green and make recycling a part of our lives.